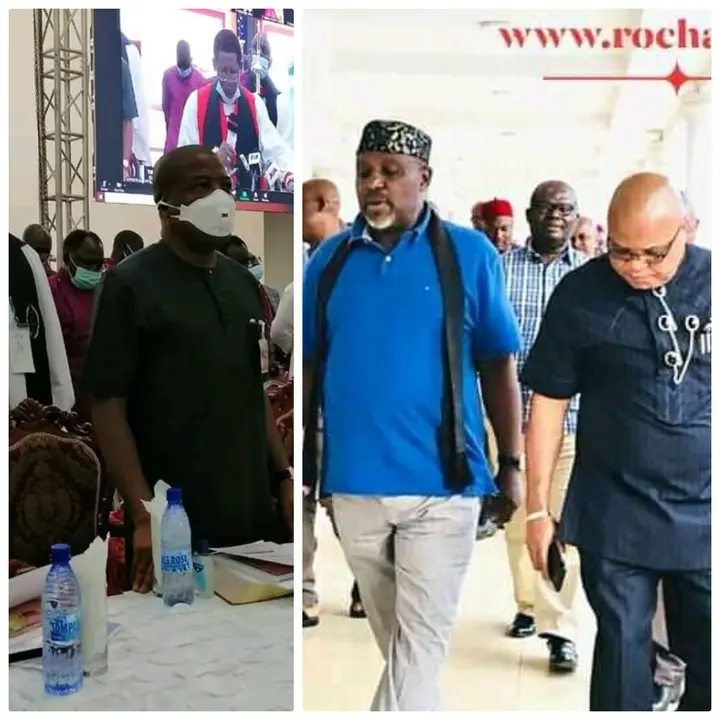 IMO: UZODIMMA SUDDENLY AFRAID OF ALLIANCES
By Dike Godspower
That outcry by Senator Hope Uzodimma over his imagined and perceived alliance being forged by the duo of Owelle Rochas Okorocha OON and Rt. Hon. Emeka Ihedioha CON is simply a lamentation from Sodom!
First and foremost, there's no evidence to prove that Okorocha and Ihedioha are in any form of alliance. So, it's the figment of imagination of Uzodimma and his gang to think and talk about a non-existent alliance.
Then second, it's quite preposterous that it's an Uzodimma, who attended alliance meetings against Ihedioha during his award-winning seven-month RebuildImo administration that is now wailing against alliance with Okorocha.
The chief driver of this laughable regime must have forgotten how he attended alliance meetings with Owelle Okorocha at an Abuja Hotel, threatening to form a Shadow Government against the RebuildImo administration of Rt. Hon. Emeka Ihedioha.
How did Uzodimma suddenly forget and turn into a weakling, expressing morbid phobia for alliances, when for nine months he, with Ugwumba Uche Rochas Nwosu and Senator Ifeanyi Araraume remain in strong alliance from Tribunal to Court of Appeal and ultimately to the Supreme Court to wrestle power out of the hands of Imo PDP and Ihedioha?
Is it not still fresh in memory how the trio of Uzodimma, Okorocha and Araraume rejoicingly celebrated the ouster of Ihedioha by the Supreme Court in what was recorded as the result of the grandmother of all alliances?
Okay, if the foregoing are alliances between the trio in the 2019 elections, what about the grand alliances in the 2015 elections between Okorocha, Araraume and Uzodimma, which was all that was required to hand Rochas an undeserved second term in office at the time?
If Uzodimma has forgotten the history of his gang-up with Okorocha and Araraume against Ihedioha since 2015, Imo people have good memories and haven't forgotten.
That's why when Uzodimma of all people woke up and was screaming: "Okorocha and Ihedioha in alliance against Uzodimma", the cock crowed three times and the chickens went home to roost.
Incidentally, that's where the boys and the men are sieved and separated when the real chips of the game of politics are down.
All the years that Uzodimma has remained in political alliance with Okorocha against Ihedioha, has he or anybody heard Ihedioha wailing and lamenting like people of Sodom that Okorocha and Uzodimma were in alliance against Ihedioha?
Anyhow, by the time the story of the total failure of this failed on arrival regime will be told and its history written, it will be noted that it was founded solidly on the foundation of lies, falsehood, propaganda, and blackmail attacks against Rt. Hon. Emeka Ihedioha. Hence, both the rogue regime and its chief driver failed woefully.
The earlier Uzodimma accepts that the mighty winds against his soul and tenancy in Douglas House aren't being fanned and blown by Ihedioha, the better for him.
Early in his wobbling and fumbling regime, I remember bringing to his attention that he had a lot of enemies within. It's unfortunate that the danger awaiting which I saw months ago and forewarned Uzodimma is what he's just seeing and lamenting like a Sodomite!
Let me help him further by hinting that this is just dawn of a long morning. He's seen only one, yet there are 99 in the line. If he survives this one, will he survive the 99 more deadly antagonists that he conned out of the way?
Let's cross our fingers and watch how the cookies crumble and the fraudulently mighty are shamed and disgraced!
By God's grace, Imo State must be rebuilt!