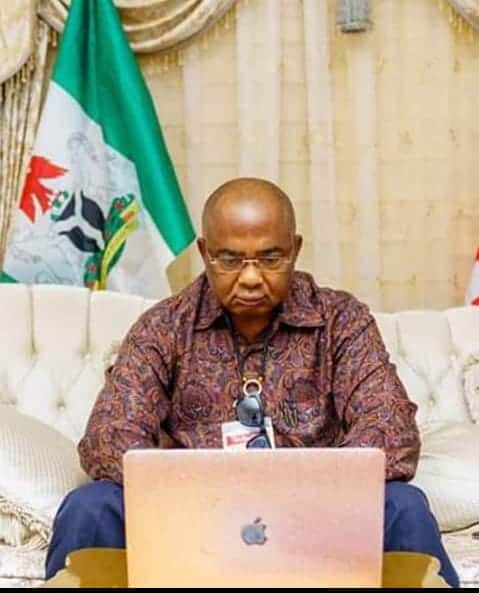 Dr. Chukwudi Nwadike
With the unfolding political intrigues in Imo State, the position of Gov Hope Uzodinma, as governor of Imo State has in recent times, come under threat, as powerful forces in the state, have aligned to ensure he does not remain in Douglas House till the end of the year.
The first move against Hope Uzodinma, came in the form of an alleged impeachment move, against him and Speaker Chiji Collins. The Speaker had raised alarm recently, accusing Rt Hon Emeka Ihedioha, as being behind the impeachment moves against him and Uzodinma.
The move is not yet over, as attempts are still being perfected to remove Chiji. The latest move is on his certificate scandal, which is giving him sleepless nights.
Chiji had tried to gather people he claimed to be his classmates in Italy, but that move may not still save him, as it has not yet cleared him of the scandal.
The Kingdom Okere/RAP move against Hope Uzodinma, is the latest and biggest threat facing Hope Uzodinma now.
Kingdom Okere, who was the RAP Govenroship candidate, in the 2019 General Elections, had approached the court, to interpret the judgement against Ugwumba Uche Nwosu.
The Supreme Court had ruled that Uche Nwosu, was the candidate of APC and AA at the same time, and as such, was disqualified.
Okere is now demanding the Supreme Court to explain, that if Uche Nwosu is the APC candidate, which party did Hope Uzodinma win from?
Okere is not alone, as another lawyer have also approached the Supreme Court, to execute their judgement against Uche Nwosu.
An interpretation and execution of that judgement, would mean the inevitable sack of Gov Hope Uzodinma from Douglas House.
Uzodinma's problems started, when he went against the agreements reached with those who helped him remove Ihedioha, including former Governor Rochas Okorocha amongst others.
An APC chieftain in Orlu Hon Don P. Nwachukwu, insisted that he warned Gov Hope Uzodinma, not to appeal the judgement reinstating the Okorocha local government officials.
Interestingly, the RAP case came up almost immediately after the Hope Uzodinma government, appealed the High Court ruling reinstating the LGA officials.
Gov Hope Uzodinma didn't make friends with the powerful Okigwe billionaire and politician, Senator Ifeanyi Araraume, who contributed to his Supreme Court victory, when he started making clandestine moves against Araraume to deny him the Okigwe Senate seat.
Araraume however showed capacity, when he was granted waiver to contest in the party primaries yesterday, despite moves by the Govenror to stop him.
Araraume has not spoken against Uzodinma, but pundits believe, that he will not come to Uzodinma's rescue at this time, as Uzodinma had already tagged him an enemy and fought him, even when he (Araraume) had never lifted a finger against Uzodinma.
The death of Abba Kyari, and the removal of Adams Oshiomhole, have left deep dents in Uzodinma's influence in Abuja.
He has not even been able to gain audience with Mr President, and that sends negative message, that Abuja may as well have turned their backs to him, and left him to replicate his Supreme Court magic on his own.
The recent shunning of the South East APC meeting he organized, by the likes of Orji Uzor Kalu, Okorocha and other top APC chieftains, and the subsequent meeting of South East APC leaders in Abuja, where he wasn't invited to, sends signals that Okorocha has a firmer grip in the party over him.
The move to get Emeka Nwajiuba, a close friend to Mr President, to work on his behalf, seems not to be yielding fruit yet.
There are indications that Gov Hope Uzodinma may have to make some concessions, if he ever hopes to get the support of those who helped him get into power, and that might include the total cancelation of probes against Okorocha amongst others.
But having shown his hand, can they trust him for the second time, or would it be better for them to work for the return of Rt Hon Emeka Ihedioha?
With his position hanging by a thread, Uzodinma's future in Govenrment House Owerri is threatened.
Who will save Hope Uzodinma?