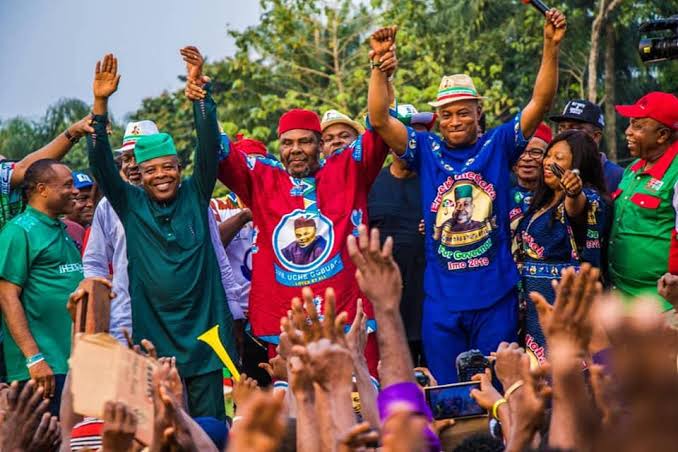 By EDISON Okereke
Member representing Ikeduru Local Government at the state House of Assembly, Hon. Ambassador Uche Ogbuagu, has commended Governor Hope Uzodimma, for awarding the Owerri/Okigwe 54-kilometre and Owerri/Orlu 34-kilometre roads to a construction giant, Julius Berger Plc.
He gave the commendation at his Akabo country-home, in Ikeduru Local Government Area in an interactive forum with some editors of state-based newspapers. He noted that the idea of contracting a renowned construction company, is in keeping with the nature of the Governor, who has promised to give the people nothing but the best in his administration, adding that work will start on the roads very soon, sometime this month.
The Majority Leader who is also the House chairman, Budget and Appropriation Committee, informed his visitors that, in addition to some notable infrastructure he had already put on the ground for his people, he had completed plans to build a state-of-the-art High Court complex at Iho, the council headquarters.
He enumerated a litany of his achievements within his twelve months in office so far, to include renovations of Nkwo-Imo market, Orie-Ukwu market, Orie-Akabo market, and Orie-Umueze market.
Others are building of Uzoagba modern Police Station, as well as the Officers' Quarters and donations of power motorcycles and patrol vehicles, to help in crime prevention and fighting, sinking of many boreholes across the area, donating and energizing of electric transformers, renovation of the stadium complex, among others.
Ogbuagu reiterated that his reason for going into politics, was to serve the people by attracting development and would not relent on his efforts. He said it was high time the people checked those they elect into the elective positions, especially their representatives at the legislatures.
He berated leaders who do not carry their people along, and advised them to turn a new leaf as democracy should be aimed at the people's welfare. He urged the youth to be upright and always strive to leave a legacy in whatever they are doing, as he has raised the bar with his quality representation.
"I've also been able to work towards raising the bar of representation. Now, whenever somebody thinks of coming to represent the people he will know that it is no longer going to be business as usual. He will know he's not going there for self aggrandizement. In the present day Ikeduru nobody is talking about going to the state House of Assembly, because everybody is saying Uche 'emebiele' this business. And I know that whoever that'll succeed me will find it very difficult."
He advised against activities that would encourage insecurity, telling the youth to engage themselves in meaningful, productive livelihoods.
He asserted that political aspiration is not the exclusive birth right of anybody, no matter how highly placed they may be.
On Chinonso Uba's stint in his Radio Station, Ogbuagu said Uba left on his own accord and explained why he exited.
He equally told the journalists how the now suspended IBC correspondent at the House, Vivian Otih, tried to gyp him of the money meant for a Radio announcement for her establishment, even after increasing it from N150,000 the actual cost to N280,000 and even when the announcement was not done, she asked for payment. And when he requested for the Certificate of Broadcasting (COB) the bubble burst. And she started calling him names on the Facebook and all over the place.
Amb. Ogbuagu urged media practitioners to use their media houses to promote, peace, unity and sensitize the people to cooperate with the Government, to support its policies and programmes.
On his failed relationship with chief Emeka Ihedioha, he reeled out how it all started, and how the former governor, in collaboration with others denied him his rights in morbid collaboration with Hon. Henry Nwawuba, after emerging governor and why he cross carpeted to the All Progressives Congress (APC) from the Peoples Democratic Party (PDP). Ogbuagu traced the problem to Nwawuba, whom he claimed also roiled the water between him and Ihedioha, by telling him that he was nursing the ambition to be governor.
"My relationship with Emeka Ihedioha started in 2013. And we were doing very well. I did everything for him in 2015 to emerge governor, including the fairy 'Ka Opua!" outburst which later turned out to be a mass movement. At the end, it didn't work out. Emeka didn't win. We came back and I didn't stop. That goes to tell those of them who are today saying that Uche Ogbuagu is among the 'food is ready' politicians. Maybe when you were coming to my house, you would know whether I'm a hungry man or not… My needs are few. So I stand on the truth in all my dealings. I'm the proud type. I don't engage in questionable activities. So I followed Emeka like a very close blood brother unconditionally.
I was outside the ring and Emeka did not win in 2015. In 2018 I took a decision to come inside the ring, for the single reason of making sure that I delivered Ikeduru and all the neighbouring places. My people like me for being the first Ikeduru son that brought his business back home, and employed his kinsmen. In fact, I leveraged on my popularity in the entertainment industry when I started cultivating the people's friendship. Emeka was on my media platform without paying for it. MyRadio FM did everything for Emeka. At a time I gave them the 'PDP' Half Hour'. On certain occasions, I brought in my own money for our journeys on Emeka's behalf.
Ray Emeaña and others were literally living in my house, dining and wining each time…
"Immediately Emeka won the governorship everyone forgot me. This Radio Station that made Emeka, he has not come here before and 'dashed' the workers one naira! Neither did he pick one of the staff in his media team, nor ask his media team to work with the Radio because it was the workers that helped us…
During my primary election, I won the majority of votes cast… I got 66, my opponents got 51 and one votes respectively. So today some people are saying that Emeka helped me. I begin to wonder…Emeka, after twelve years in the National Assembly, did not realise that if he put 'mma' in his name would sell. And that inspiration came and I added it, used it lyrically: Bia mee Ihe di oha mma n'ala Igbo oo… On certain occasions I brought out my own money for our journeys on his behalf. I brought out everything that I had including taking him to my spiritual father, to pray for him because I wanted him to become governor. Little did I know I was being naive…."
He said that at the end of the elections, chief Emeka Ihedioha was declared governor. He went bananas by badmouthing him, in addition to the dummy Nwawuba had sold to Ihedioha about him, that he was among those who wanted to be governor. Altercations set in.
"It was smooth for Emeka until he started badmouthing me. What happened to Emeka had not happened to any other person in Imo State before politically. It is a lesson. If somebody does good to you and you pay them back with something bad, my Bible tells me that whoever uses evil to repay good that evil will dog their ways. It is spiritual…
"At the end of the elections Emeka emerged and quarrelling started…."
Ogbuagu recounted other remote and immediate causes, of his eventual departure from the PDP and decided to deny himself and his immediate family some comfort, in order to reciprocate his people's love for him who voted for him unconditionally, at the polls and protected their votes.
He recounted with wonderment, the bomb incident that did not detonate at the place which would have caused many their dear lives, adding that their love was unprecedented for him, promising not to let them down.
"So Uche Ogbuagu is not necessarily about party politics, because when you have 18,791 votes they could not have come from PDP voters only….," he stated.
Earlier, the journalists had raise the issue of palliatives for them by the Government in this era of COVID-19, expressing their desire to make government's policies and programmes always known to the people.
Source Nigerian HORN