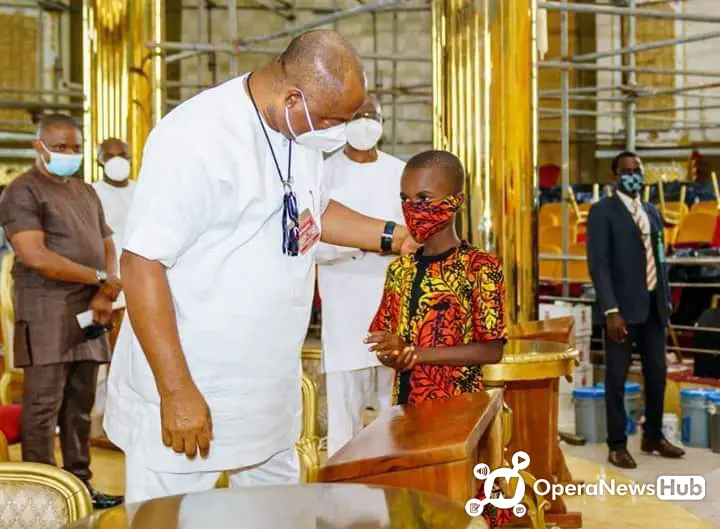 Media Director of the Imo State Chapter of the PDP, Mr Ambrose Nwaogwugwu have taken a swipe at Gov Hope Uzodinma of Imo State, over what he deemed as trying to distract Imo people, from the fact that civil servants and pensioners were still being owed, by the governor's adopted of the young singer.
His reaction on his Facebook handle reads as follows;
How Many Sons and Daughters of Imo Unpaid Workers And Pensioners Can Mr. Hope Uzodimma Adopt?
The Supreme Court Governor of Imo State, is owing Imo workers and pensioners for over SIX (6) months now, but he is busy looking for whom to adopt and wasting state resources on needless publicity.
While it is commendable to support the less privileged among us, most especially, of those who are talented like the young and sensational singer Oluomachi, it is however preposterous for a man who can not pay ordinary state workers' salaries and pensions for close to SEVEN MONTHS, running now to be recklessly wasting money on publicity when helping the less privileged.
This is another desperate chase for public legitimacy and acceptance by the regime.
If Mr. Hope Uzodimma was to be paying workers and pensioners in the state, there may have not been many helpless citizens who will add to the numbers of the less privileged in the state.
I totally align myself with the saying the of my mentor and personal idol Prof. Chinua Achebe, when he said that "While we do our good works, let us not forget that the real solution lies in a world in which charity will have become unnecessary."
Does the Supreme Court Governor want to create more and more destitute(s) in the state?
Does he now want to render the entire working population, and pensioners of the state to beggars who will now rely on the continuous adoption of the governor to train their children?
How many more children of the dying unpaid pensioners can he adopt?
How many more children of the frustrated unpaid workers, of the state government can he adopt?
What of the children of the unpaid workers and pensioners of the state, who are not as talented and highlighted as Oluomachi; does it mean that education will not be for them?
Enough of chasing shadows while the state burns, pay workers and pensioners and stop looking for whom to adopt for media frenzy.
Ambrose Nwaogwugwu.
05 July, 2020.