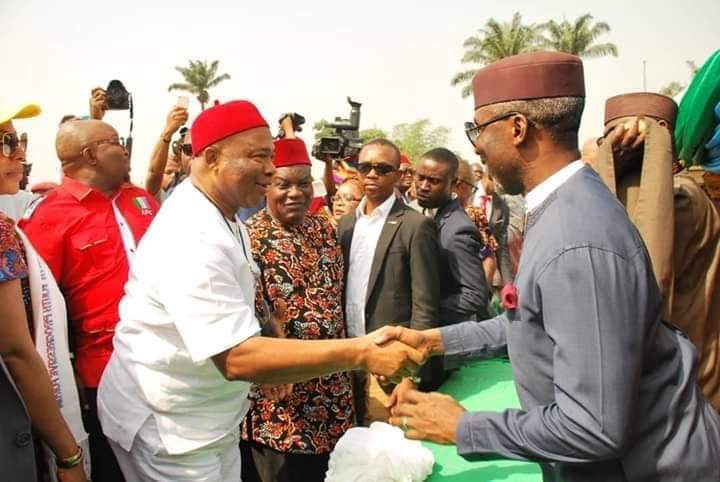 Sacked governor of Imo State, Rt Hon Emeka Ihedioha, may not be gone after all, if Okorocha's son in-law and governorship candidate of the Action Alliance, Ugwumba Uche Nwosu, approaches the Supreme Court to interpret the disqualification judgement handed down to him.
Information reaching us, has it that it is an option that can be on the table if necessary but Ugwumba Uche Nwosu has yet to approach the court about it and from sources within his camp, he has no intentions to, even though it is within his rights.
Ugwumba Uche Nwosu was disqualified by the Supreme Court, for being a dual candidate of the Action Alliance AA, and All Progressives Congress APC, in Imo State.
Political analysts are of the view that if Uche Nwosu is the candidate of both parties, then Gov Hope Uzodinma has no party and as such, should be disqualified.
Should Uche Nwosu approach the Supreme Court to interpret that judgement, the baton may yet again change hands in Imo State in favour of Rt Hon Emeka Ihedioha, who being the supposed second runner up, becomes governor of Imo State yet again.
A supporter of the Hope Uzodinma administration, and a former State Assembly candidate under APGA, Hon Peter Onu stated on his Facebook handle that Uche Nwosu has approached the court to clarify the judgment, but a call from close associates of Ugwumba Uche Nwosu revealed that the former Chief of Staff to the former governor of Imo State Owelle Rochas Okorocha, has yet to make such moves.
It may not yet be Uhuru for Uzodinma and it is definitely not over for Rt Hon Emeka Ihedioha to reclaim the governorship seat in Imo State.