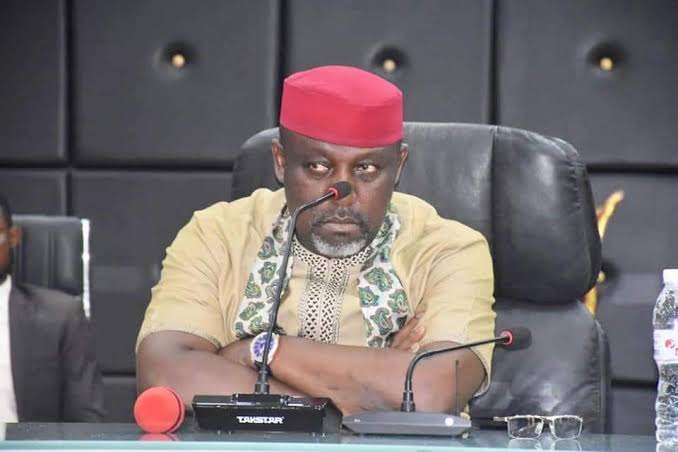 …Begins Consultation With Party
There are strong indications that the former Governor of Imo State and Senator Representing Orlu Zone Rochas Okorocha may be preparing grounds to dump the ruling All Progressive Congress, APC, for the Peoples Democratic Party PDP.
Okorocha, we have learnt authoritatively has sent out a delegation to commence talks with PDP over the possibility of joining the party before the 2023 election year.
Source close to Rochas Okorocha revealed that the former governor is no longer comfortable in APC, especially with what the harsh treatment meted out to his faction of the party in Imo State by the Hope Uzodinma administration.
The party has been factioned with some loyal to the former governor under the leadership of Madueke Nwafor while the other faction is loyal to Gov Hope Uzodinma with Nlemigbo at the helm.
There are still further fractionalization in the party with the "Sherrif APC" which is led by Gov Hope Uzodinma, the Okorocha APC, with Rochas Okorocha as leader, the Araraume APC with Senator Ifeanyi Araraume as Leader, the "AA/APC" led by Ugwumba Uche Nwosu, the Coalition APC that fought Okorocha during the primaries now abandoned by Hope Uzodinma with Dr TOE Ekechi as Leader. There is yet another faction of the APC led by the former Deputy Governor of Imo State, Prince Eze Madumere.
With the probe panels and sidelining meted out against him, Okorocha has realized that all is not well for him in the APC in Imo State as the Governor seems determined to neutralize him politically.
Okorocha seems to realize also that the moment the Muhammadu Buhari's second term expires, it would be difficult for APC to remain intact again.
Also our source revealed that the manner Gov Uzodinma had turned down all the agreements reached with Okorocha and others before the Supreme Court verdict has shown Okorocha that he cannot work with the Governor in the same party.
Okorocha has also realized that if he remains in APC, the fight for the party structure in Orlu in 2023 with Uzodinma will be a impossible task, and a move to PDP on time and solidify Orlu PDP under which platform he will go for a second term in the Senate would be his best bet.
Sources in Abuja have confirmed that Okorocha's "delegation" have reached out to the PDP hierarchy on plans to return to PDP.
Negotiations so far from information gathers reveals that the talks are going on well towards preparation for his return to the PDP being that Okorocha is a founding member of the party.
The negotiations we were informed is still under wraps at the moment until agreements can be reached between the intertesed parties.
"It remains a top secret for now. But one thing certain is that Okorocha is tired of APC" we were informed.