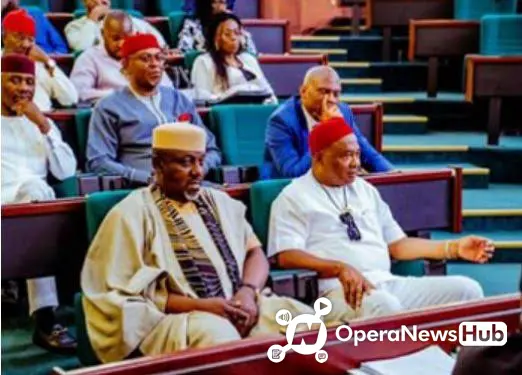 Abuja Based Imo social crusader Sley ND has warned the Imo State governor Senator Hope Uzodinma not to follow in the footsteps of his predecessors Owelle Rochas Okorocha and Rt Hon Emeka Ihedioha over the commencement of white elephant projects.
This is contained in a post made on his verified Facebook handle and reads as follows:
Governor Hope Uzodinma Should Not Toe The Line Of 27 Non Viable Projects
After careful study of the projects of 27 General Hospitals and 27 Stadiums in each LGA of IMO state by Senator Rochas Okorocha and Rt(Hon). Emeka Ihedioha I will humbley advice the amiable governor of IMO Sen Hope Uzodinma not to follow same trajectory.
At the first instance when Rochas Okorocha began the construction of 27 General hospital in Imo I knew the project was a waste of tax payers money. The money would have been used to equip the existing health center in the state that are in comatose. It could also be used to build industries in the state to employ thousands of unemployed youths in the state.
After Ihedioha took over from Okorocha he followed same path by constructing 27 Stadium in Imo. One stadium for each LG in the state. That project is wasteful. Even the Abuja National stadium only makes money mainly when there is an International match. The stadium in Abuja has been turned to a place where Fulani herdsmen breeds their cattle.
After making my findings over 80% of IMO citizens are not in support of the building of such stadium by the former governor Rt(Hon). Emeka Ihedioha. How many workers will be employed?
All over the world all sports events have been cancelled as a result of Corona Virus. So stadiums round the world are not making profit. The managements of the stadia are all laying of workers. Anybody supporting such move by Ihedioha is doing so for his or her selfish benefits.
Even the 27 hospitals that wasn't completed by Okorocha is far better than the 27 stadium initiated by Ihedioha. Most countries in the world have been spending Billions of dollars to equip their hospital. Some hospitals are now turned isolation centres. Lots of medical practitioners are now being employed to treat Covid patients.
In Summary, Governor Hope Uzodinma should look at projects that will be of Economic benefits for the state at large. IMO state needs industries to employ unemployed youths. So if Hope Uzodinma is to execute any capital projects he should be wise so after 4 years he won't be criticized for towing the line of his predecessors.
Credit: Sley ND