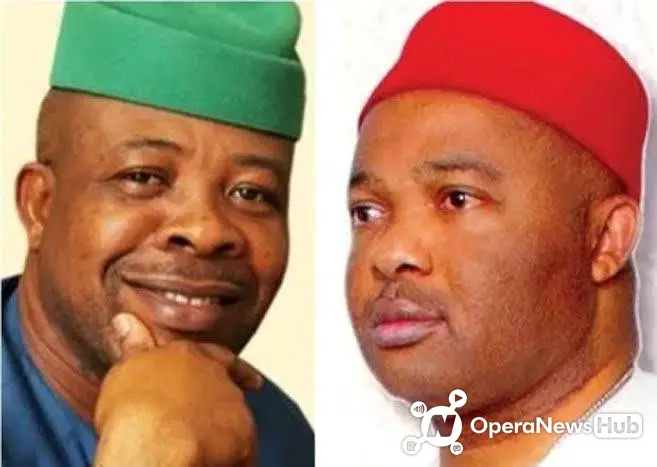 Former Secretary to the Government of Imo State, Hon. Uche Onyeagocha, has advised Governor Hope Uzodinma, to separate the outgone administrations of Rochas Okorocha and that of Emeka Ihedioha.
Onyeagocha who spoke HOT FM, an Owerri based radio station, Tuesday, condemned the idea of the state government going to the social media to heap allegations against former Governor Ihedioha of mismanaging N19.63 billion naira LG funds when such does not exist.
He said the Ihedioha administration is ready to answer a probe on the matter, advising the present government to rather set up a probe panel to look into the allegations.
He said "The appropriate way of doing this is not to run to the media and make false accusations.
"There has to be a systematic approach. Senator Hope Uzodinma should publish the report on the audit and streamline it on a month to month basis.
"Make a separation of Ihedioha's administration from that of Owelle Rochas Okorocha with reference to dates and ascertain whose administration it was before casting aspersions. That's the way every reasonable government should handle issues of public importance."
He said the allegations against Ihedioha on mismanagement of LGA funds are baseless.
Officials of the Uzodinma administration and his predecessor, Hon. Emeka Ihedioha, have been entangled on verbal altercations after the State Commissioner of Information, Declan Emelumba, had accused the past government of misappropriating N19.63 billion naira LGA funds.
Ihedioha's Chief Press Secretary, Mr.Chibuike Onyeukwu, had described the allegations as spurious.
"These allegations are spurious because 100 days in office for the Uzodinma administration is approaching and because they have nothing to offer, they want to distract Imo people" Mr.Onyeukwu told My Radio Fm, Owerri.
'The whole thing is designed to tarnish the image of His Excellency, Rt Hon Emeka Ihedioha. Senator Hope Uzodinma should just humble himself for a tutelage from Rt Hon Ihedioha.

Coronavirus Realtime Updates
NG
+1141095Confirmed
+132Deaths
+11208Recovered
Data as of 2020-04-25 06:02:20 UTC