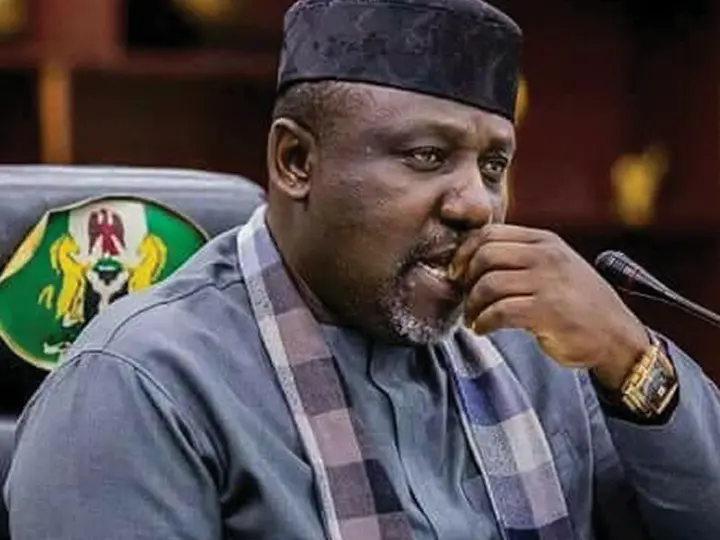 By Okey Alozie
The inability of former of Imo State Governor, Owelle Rochas Okorocha, to appear before the Judicial Commission of Inquiry on Road Contracts on Monday almost landed him into problems as the commission has raised eyebrows over his action.

Owelle Rochas Okorocha's lawyer, Mr Osondu who  stood in for him while explained to the panel that his client was not served at and for that reason he could not come to the court.

He also said that the lock down order prevented him not to appear before the probe panel since there was no movement.
"My client told me that he was not properly served moreover there was lockdown order which stopped movement" Okorocha's lawyer submitted.

The probe panel chairman insisted that he was duly  served adding that his invitation was published at Vanguard newspaper 16th of March 2020 edition and Trumpeta newspaper 17th of March.

The panel chairman, Justice Benjamin Iheaka reminded him that he is expected to respect the law and the constituted authority.
"If your client was not served, then how did he brief you on the lockdown and other reasons that he said that made him not to come" the panel questioned Okorocha's lawyer (Mr Osundu).
The panel regretted why the lawyer should delay the proceeding of the commission.

But the lawyer maintained that nobody served Okorocha in his House at Owerri adding that he informed him actually but he is not the one to decide for him whether to come and answer the panel or not.

The panel further said that the lawyer made the commission to believe that he actually discussed with his client Okorocha and surprisingly he turned down the invitation today (Monday).

In addition, the probe panel chairman asked the lawyer to explain what happens if a lawyer announces unqualified appearance for his client in the law court.

"What is his punishment" the commission questioned.
At that particular point the voice of the lawyer changed without wasting time.

The panel chairman Justice Iheaka frowned his face and declared that Okorocha is in contempt.

Okorocha's lawyer hearing that pronouncement, started pleading immediately. Praying that the panel should tamper Justice with mercy promising that he must surely bring his client Owelle Rochas Okorocha.

The panel accepted his plea and adjourned to 29th of April 2020 for Okorocha to appear.

The lawyer also made the panel to understand that his client has gone to court against the panel and the matter is expected to come up on the 27 of this month.

It could be recalled that the first time the matter came up few weeks ago Owelle Rochas Okorocha was also absent from court.
The views expressed in this article are the writer's, they do not reflect the views of Opera News. Please report any fake news or defamatory statements to feedback-newshub@operanewshub.com

Coronavirus Realtime Updates
NG
+91873Confirmed
+328Deaths
+0197Recovered
Data as of 2020-04-20 09:00:56 UTC