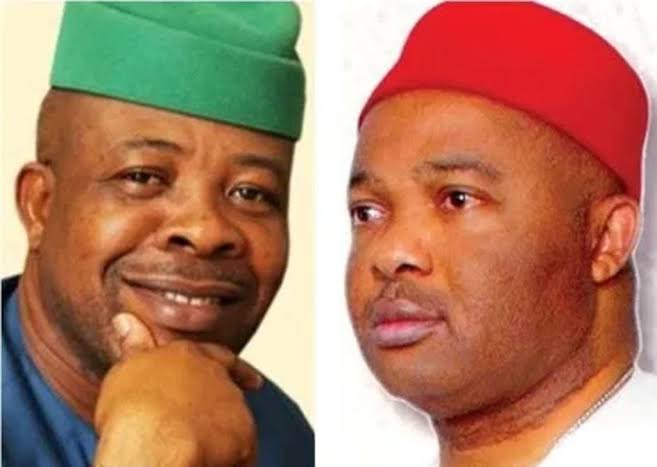 There have been a lot of noise from the Imo PDP crediting the infamous, notorious and shamefully stolen mandate of Rt Hon Emeka Ihedioha as a legal administration.
It has become necessary, we make public the true position of how the illegal government deceived and defrauded the state within a short period of seven months.
I. The taunted Due Process
The ousted administration hinged on the provision of EMERGENCY contained in the Procurement act to massively defraud the state. All road contracts purportedly awarded were never bided for. Under this EMERGENCY window, the government unilaterally gave out all the jobs to their "ARANGEE" contractors. The main aim of this approach was to extort large sums of Imo peoples money from these arranged contractors with a promise that in future that they have opportunity to apply for variation. This development made it impossible for most of the contractors to mobilise to site. The dubious method by the ousted administration gulped over 5billion naira of our collective treasury.
II. IMSUBEB CONTRACTS:
Unsuspecting contractors of Imo origin following a misleading advertorial calling for bidding for various jobs, turned out in their numbers to apply for both pre-qualification and financial bids. Each of the bids cost N161,000 ( One hundred and sixty one thousand, naira) for registration and another N10,000 ( Ten thousand naira) for the purchase of each bid form. In all, there were more than two thousand applicants who had the least idea that they were called out to be duped. At the end of it all, the entire applications were jettisoned and the award of contracts were shared out from the governors office. It then became a " PAY AS YOU GO" affair. You pay up front the sum of N3.5million and receive a contract award letter of a value of N16million or forget the contract.
Also, as a contractor, your job terminates at the block work. The governor through his agents provides the carpenter who does the wood work up to the roofing level.
Ndi Imo this is how our dear state was "REBUILT" in IMSUBEB.
III. PAYMENT OF PENSIONS DURING THE ILLEGAL 7 MONTHS IN OFFICE
On assumption of office, a " Monkey" style approach was adopted to cause unnecessary delay in payment of pensions. This dubious and selfish exercise was elongated deliberately for three months just to avoid paying pensioners for that period.
The then governor engaged adhoc staff who worked closely with his so called consultants to retire huge sums of funds accrued to the state. It is on record that pension arrears within the three months period which this dubious pension biometric verification lasted remained unpaid in his seven months in office.
IV. MASSIVE LOOTING OF IMO COMMON WEALTH
The construction of mini stadia and council secretariats across the 27 LGAs in the state was a well perfected channel by the ousted governor to massively loot the state treasury.
The treacherous previous administration contracted a consulting firm who acted as a middle man between the state government and the local government area contractors where they fraudulently milked the LGA funds.
It is in the public domain resumption of construction of gigantic mansions by the ousted governor at both in Aboh Mbaise LGA and Civic centre, Owerri few weeks on assumption of office. It is also known that mansions for both residential and office accommodations were acquired in Asokoro and Maitama in Abuja by the so called ' Due ' process administration that governed Imo for seven months. It must interest you to also know that major contracting firms in Nigeria erected private residences for some aides of the ousted governor in choice areas in Owerri as part of the condition to perfect the road contract agreement.
V. PDP AS A COMPLETELY FAILED POLITICAL PARTY
According to the state secretary of Imo PDP, Nze Ray Emeana who in a recent press statement accused Gov Hope Uzodinma's administration as masterminding the purported letter sacking one Ambrose Nwaogwugwu, one will deduce that the said opposition political party has lost grip of management of it's secretariat. A party that is currently in disunity and experiencing betrayal from party faithfuls occasioned by mass exodus by the day should expect such act from it's aggrieved members who lost out at both the Ward, LG and state congress lists instead of accusing an innocent man who is busy working out plan on how to fix the mess he met on ground.
My brother Ray Emeana, don't you think those you are usurping their rights and position in the party might be behind this sinister move? The position of a secretary and chairman in any organization is explicit and well defined. Each know their limits and job description, I advise you have a rethink.
VI. Imo PDP And Ambrose Nwaogwugwu
Imo APC cannot be against any responsible and constructive criticism from opposition political parties, individuals and organized groups as well. It is a major ingredient of democracy. Most unfortunately, Imo PDP has recruited an individual who has substantially displayed his immaturity and ignorance to what a constructive opposition political party should be. I cannot dwell in details about all the malicious, fabricated and libelous publications of the so called Ambrose Nwaogwugwu. I am only interested to point out to him that henceforth, am in agreement with my colleagues to challenge legally any further false information emanating from his so called office of the DG, Imo PDP New Media. We want him immediately to withdraw from addressing our dear governor, Dist Sen Hope Uzodinma as a Supreme Court governor. If he does again, we will file a suit in the law court for whatever that means. We have a governor that was duly elected in the last governorship election, 2019 but was temporarily and fraudulently denied by the ousted PDP administration. Coming now to address him rudely will no longer be tolerated henceforth. Constructive criticism by an opposition political party shouldn't result to abusing constituted authority. Again, the idea of coming online to do Photoshop portrait of our respected governor dressed up in military attire is in the least most unfortunate. We call on this Nwaogwugwu to tender an unreserved apology to the executive governor of Imo state, Dist Sen Hope Uzodinma. Failing to do so, we will stop at nothing in engaging him and his office in a legal suit to determine the level of freedom of speech that guarantees debasing of a governor in that manner.
I wish to advise Nwaogwugwu to be civil while he goes about his media hatchet job. He might not know the political party he feels he is impressing at the moment. When the legal consequences of his actions will resume, he will realise that nobody is watching his back. From experience, Imo PDP sacrifices her best at the slightest moment of trial. I don't wish to dwell much concerning Nwaogwugwu but to assure him that we will take up as many legal matters as possible against him once he derails from constructive criticism and opposition. Henceforth, any libelous publication from him must be challenged legally.
Imo PDP should return to the drawing board to strategise on how to manage their failure because their future is conclusively foreclosed.
Okenze Blyden Amajirionwu
Special Adviser to the Governor