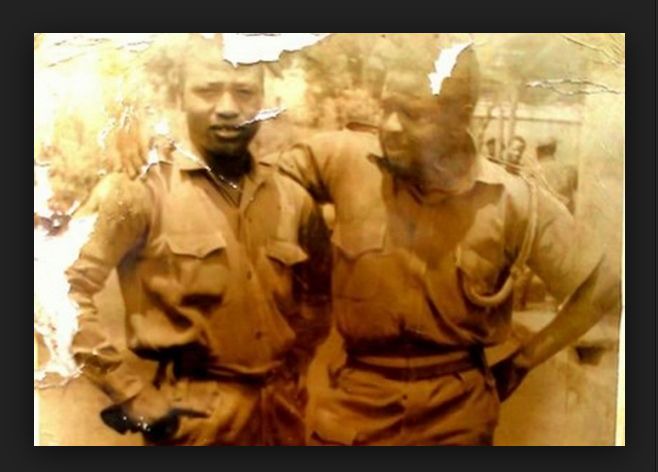 Major-General Mamman Jiya Vatsa was one of the finest military officers that Nigeria has ever produced; intelligent, strong, witty and an embodiment of intellectualism.
He was a farmer and poet of great repute; even though a soldier, Vatsa who was from Nigeria State of Nupe extraction , was one of the finest writers of his generation.
He was a soldier who published eight poetry collections for adults and 11 for children, His books are about ordinary people's lives and simple creatures, including the pidgin collection Tori for Geti Bow Leg published in 1981.
Vatsa was a facilitator and patron of the arts in Nigeria, where he organized writing workshops for his fellow soldiers and their children and got their works published. He helped the Children's Literature Association of Nigeria with funds, built a Writers' Village for the Association of Nigerian Authors, and hosted their annual conferences.
However, the life of this fine officer and erudite scholar was cut short on March 5, 1986 masterminded by his closest friend, Ibrahim Babangida.
Babangida accused his friend of planning a coup to overthrow his government which was just months old, an allegation Vatsa denied till death.
Vatsa was childhood friends with Babangida and both men were peers who attended the same educational institutions. Like Babangida, Vatsa attended the Government College Bida from 1957 to 1962 and started his career with the Nigerian Army by enrolling in the Nigerian Military Training College on the same day as his friend.
They were so close that Vatsa was IBB's best man at his wedding while late Maryam Babangida and her kids were always staying at Vatsa house whenever the former President was out of the country on a long trip.
In fact, they usually wore the same clothes and shoes but the Nupe man did not know that his childhood friend would be the one to sign his death warrant.
In the wee hours of December 17th, 1985, Vatsa was arrested at his Ikoyi home and was charged for planning a coup. Vatsa, a committed farmer had given an officer Lt. Col Musa Bitiyong a loan for farming which was later used as an evidence against him that he was financing a coup.
Vatsa swore the money he lent Bitiyong was for farming purpose and never conceived or was a part of a plot to remove his friend.
Babangida never bought into it and after trial at a Military Tribunal, Vatsa alongside eight others were killed on March 5, 1986 despite pleas from eminent Nigerian including writers JP Clarke-Bekederemo, Chinua Achebe and Wole Soyinka and international community.
It was generally believed in the military that Babangida killed his friend out of jealousy, using a trump up charges to nail him.
The rivalry between the two was dated back to their secondary school days up till their time in the military and Babangida confirmed that in an interview several years after he left government.
Babangida said it was after Vatsa's coup was foiled that he realised his childhood friend and classmate planned the coup in line with a deep-seated personal rivalry, going back to their days as young officers. He said that unconsciously he and Vatsa had been great competitors; that as a young officer, whatever he did Vatsa equally did and whatever Vatsa achieved, he also went after. He said it was Lt. Gen. T.Y. Danjuma who pointed this out to him from their military records.
Babangida gave this rationalisation to justify why he could not pardon Vatsa. He said when he first heard his childhood friend was planning a coup, he decided to do nothing but monitor him. He said however that Vatsa came to him to complain thus, "You heard I was planning a coup and couldn't even ask me. What kind of friend are you?" To this Babangida said he replied thus, "I didn't believe it or are you planning a coup?" He said Vatsa replied in the negative and the matter was forgotten until there was evidence of the plot. He said he instructed that Vatsa be arrested and detained so as not to allow him impede investigation.
"However, he tried to escape through the air condition hole. I couldn't understand why he was trying to escape if he was not involved in a coup plot," Babangida said. He added with a frown, "But while watching the video of his execution, I turned my eyes away when I saw him remove his watch and ask a soldier to give his wife. I couldn't continue watching." He said he couldn't retire or imprison Vatsa because he believed the guy could still have planned a coup either in retirement or in prison. "Rawlings did it in Ghana and you know Vatsa was very stubborn," he said.