Innocent Oweh;Samuel Ogidan;Francis Onoiribholo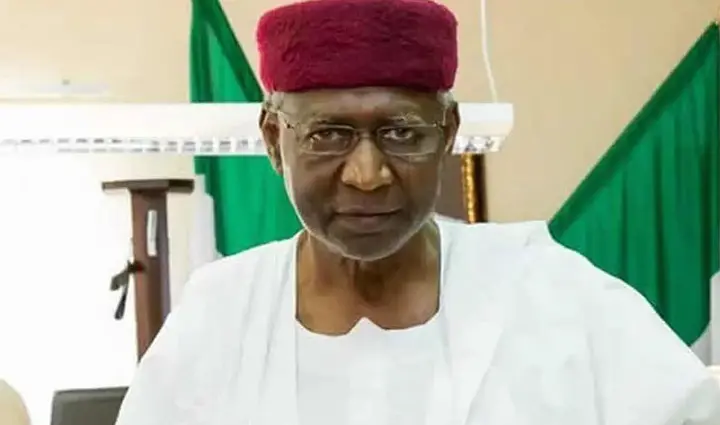 Abuja / Benin – The presidency on Wednesday said what is happening at the State House following COVID-19 pandemic can be described as a partial lockdown but not a complete lockdown.
This is coming after President Muhammadu Buhari's Chief of Staff, Abba Kyari, tested positive to COVID-19.
Also contrary to speculations that the Federal Government canceled the Federal Executive Council (FEC) meeting following the coronavirus pandemic, the presidency has explained that it was only adhering to the directive of the Presidential Task Force on the Covid-19, headed by the Secretary to the Government of the Federation (SGF), Boss Mustapha, that not more than 50 persons should be gathered at a place at any given time.
The Special Adviser to the President on Media and Publicity, Femi Adesina, who sought to clear the air on some speculations, said the meeting was canceled due to the size of attendance.
He said: "The council was suspended because of the size. You have over 50 people seated in the Council Chambers whenever the meeting holds and that is not advisable at a time like this.
"But if there would be a very important decision to be taken, you can always summon the relevant people, three, four or five and hold a small meeting and arrive at a decision.
"It does not mean that one man is going to be taking all the decisions. Of course yes, there are executive decisions but the ones that must pass through consultations of which must have a buy in of the Federal Executive Council can always be discussed at a smaller meeting."
On the present situation of things in the Villa, Adesina said: "Well, things are a bit on a low key, it doesn't mean that the State House is shut down, it's just that things are a bit on the low key just like the rest of the country. The rest of the country is also on a low key, there is partial lockdown in most parts of the country. So, what is happening at the State House can also be called a partial lockdown but not a complete lockdown."
Asked if President Buhari indeed was tested for the COVID-19, the presidential spokesman, while confirming it, said the outcome of the result calls for rejoicing.
He asked: "What did you hear about the result?" To which the reporter responded, "They said it's negative." Adesina then replied: "Good. So that calls for rejoicing with him. Anybody that does the test and tests negative we will rejoice with that person. And anybody that does it and tests positive, it's not a death sentence.
"We also would pray along with the person, give the person our good will and best wishes and they will surely come out of it. Even the index case in Nigeria recovered and has been discharged. So God that has shown us mercy thus far will continue to show that mercy.
"Anybody that tests positive is not a death sentence, they will be attended to, and they will be fine."
On the reported media ban from the State House, the presidential spokesman said: "Ban is a wrong word. Anybody that uses that word ban is just operating from a mindset and you know that Nigerians love conspiracy theories but this one is no conspiracy at all. There is no ban.
"What happened is that in the press gallery you have about 108 journalists in that single hall and it goes contrary to the spirit of the times. The times dictate that you don't have too many people congregated in one place. Imagine 108 journalists if one of them happens to catch the virus, he spreads it among all the journalists.
"So we said for now let them stay away, not much is happening for now. But we picked a certain number, representative of the media, they will come in, if there is anything they will cover and those outside will also not miss because there would be a system in which they can share reports. So ban will be a wrong word, it will be operating from a mindset of conspiracy and there is no conspiracy here at all."
On other measures adopted by the presidency to curtail the spread of COVID-19, Adesina said: "Of course, you know when you come into the State House you have about three, four, five spots in which your temperature is tested and you have to sanitize your hand. And if you come in and your temperature is way above a certain figure, then you will be advised to go for test and take care of yourself.
"So I think so far so good. Before you will go into the general area you will meet about three areas of tests and before you get into the president's area you will meet like another two. So I believe that a lot has been done to ensure that those who operate in the presidency are taken care of."
Also asked if there was need for Nigerians to panic at a time like this, the spokesman said: "Panic will not be the right thing to do because when you panic you are bound to make mistakes. When you panic you get agitated and the situation does not call for that, rather it calls for cooperation with government. When they give instructions let's abide by those instructions. And a number of things have been put in place to ensure that the wellbeing of Nigerians is taken care of."
Obaseki, Bello Go Into Self-Isolation, Edo Speaker Responding To Treatment
Meanwhile, Governor Godwin Obaseki of Edo State has gone into self-isolation following his close contact with Bauchi State governor, Senator Bala Muhammed, and Chief of Staff to the President, Abba Kyari, who have both tested positive for coronavirus.
Similarly, Abubakar Bello, governor of Niger State, has gone into self-isolation after attending same event with Bala Muhammed, his Bauchi counterpart.
This is coming just as the identity of the Edo State index case has been revealed.
He is the speaker of Edo State House of Assembly, Frank Abumere Okiye, who was in London for an official engagement and on arriving Nigeria tested positive for the pandemic.
Disclosing this at a press conference in Government House on Wednesday, Philip Shaibu, Deputy Governor of Edo State, said the governor has sent his blood samples for testing.
According to him, Obaseki has gone into self-isolation following his close contact with Muhammed and Abba Kyari.
"The governor had met Senator Muhammed at the Nigeria Governors' Forum (NGF) and National Economic Council (NEC) meetings and thereafter visited Mr. Kyari."
He said although the governor is not showing any symptoms of the virus, he has taken the necessary precaution to self-isolate to protect people that may otherwise come in contact with him.
Shaibu, who said the speaker travelled to the United Kingdom, came back and self-isolated. He sent his blood sample for testing and the test came back positive.
"He is responding to treatment and is in stable condition and all those who had close contact with him on arrival in Nigeria including his wife and his daughter have all tested negative to the virus".
Both Governor Bello and Muhammed had attended the meeting NGF on March 18.
In a statement on Wednesday, Mary Noel-Berje, the governor's Chief Press Secretary, said the decision was taken based on the directive of the NGF.
The forum directed those who attended the same event with Bauchi governor to embark on self-isolation.
Noel-Berje said the Bello will undergo a test to know his coronavirus status. The spokesman quoted the governor as saying his family would also be tested for the virus.
Atiku Says Nigerians Deserve Palliatives, Pledges N50m
Again, as the coronavirus pandemic continues to ravage the world, former vice president and presidential candidate of the Peoples Democratic Party (PDP) in the last general election, Atiku Abubakar, on Wednesday canvassed stimulus package for Nigerians and pledged N50 million.
He applauded the various state governments that have proactively taken measures to contain the spread of the virus.
Atiku commended the governors for the proactive measures such as issuing stay at home orders, and shutting down non-essential markets and other places of mass gatherings, while also giving guidelines for social distancing.
The former vice president, in a statement said, "We must accept the fact that much of the Nigerian public have a subsistence existence. A large percentage of our people do not have the financial capacity to withstand long periods of self-isolation and even lockdown."
Challenging the Federal Government, Atiku said, "It is, therefore, incumbent on the federal and state governments to provide palliatives to the Nigerian people to enable them survive, even as they abide by these necessary measures put in place for their own safety."
Advising the government on what to do at this critical time, the former vice president said, "At an approximate 30 million households or thereabouts, government should devise modalities to distribute N10, 000 as supplement for food stuff to each household, among other palliative measures, with no one left behind.
"It is thus time for the National Assembly to reconvene in an emergency session, perhaps by teleconference (in line with the demands of social distancing), to legislate a Stimulus Package Act that will cater for all Nigerian citizens.
"I also call on all the mobile telephone companies in Nigeria to urgently develop mobile money platforms so that government can reach the unbanked with financial assistance. I also urge these telecommunications firms to offer each of the 100 million mobile phone lines in Nigeria free credit of at least N1500 per mobile line, so that Nigerians who show symptoms, or those who just want information, can call the nearest available health facility, or even an ambulance service, as the case may be."
Appreciating Nigerians for their efforts, Atiku said, "I commend all individuals and corporate organisations that have one way or the other provided some form of relief for the Nigerian people. This is what makes Nigeria great, when we help each other at such crisis times as this, irrespective of any differences. I further call on more corporations and individuals with capacity, to assist the public in these trying times."
He, however, pledged the some of N50 million to help the nation at this critical time, adding, "Priam Group pledges N50 million on my behalf as my humble contribution to a relief fund that will form part of the stimulus package."