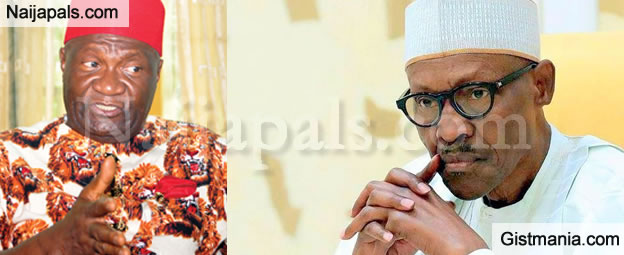 ENUGU—Apex Igbo socio-cultural organization, Ohanaeze Ndigbo and Igboezue International Association Nigeria and the Diaspora, IIAND yesterday, disagreed with President Muhammadu Buhari that the political future of the Igbo depends on his re-election in 2019.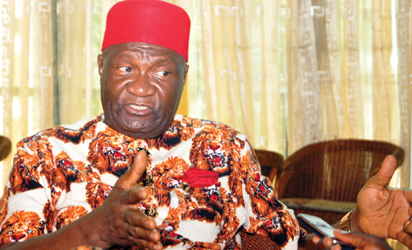 President Muhammadu Buhari at the Southeast APC mega rally in Imo State, organised by Governor Rochas Okorocha had said that the political future of Igbo in Nigeria, depends on his re-election in 2019.
Buhari's representative at the event, Boss Mustapha had said, "2019 is an election that will make or mar the chances of Igbo in Nigeria. I want Igbo to make a paradigm shift."
But Ohanaeze in its reaction yesterday through a statement by its spokesman Chuks Ibegbu said:
"The political future of Ndigbo lies on God and not on any man. Nobody should play God over the political fate of Ndigbo. We have nothing against President Buhari's re-contest but nobody should threaten or cajole us with that. The actions, utterances and activities of any presidential candidate for 2019 will determine if Ndigbo would identify with his or her aspiration in 2019."
Ibegbu restated the position of Ohanaeze Ndigbo that Ndigbo would identify with a candidate or candidates that are ready to restructure the country and exhibit equity in the polity.
Igbo's future in God's hands—Igboezue
In its reaction, Igboezue International Association Nigeria and the Diaspora, IIAND, through a statement  by  its President General, Chief Pius Okoye, said it is only God that will determine the future of Igbos in Nigeria and not man, party or any election whatsoever.
"If  the treatment meted on Igbos by seizing their millions of pounds sterling in the banks, confiscating of their properties in almost all parts of Nigeria, including nearby Port Harcourt, Rivers State; declaring their properties as abandoned properties, by the then Nigerian government and their cohorts, and the stipend given to them to start life afresh did not decide Igbos future, then Buhari, APC and no man can do that, but God."
President spoke to APC, not Ndigbo—Chekwas Okorie
Reacting to the President's speech at Owerri, the National Chairman of United Peoples Party, UPP, Chief Chekwas Okorie said:
"The SGF said Igbos can negotiate for presidency in 2023 if we vote on the basis of strength and the strength he was referring to was the number of votes the Igbo people will contribute to Buhari's second term project. In spite of that, my own reaction therefore is that based on my own understanding, he was talking to the APC people and not to the Igbo people because there are Igbo people in APC that are nursing presidential ambition, at least I can name two and all of us know them.
"And so, the calculation is that if it is in the south, it is basically between the south west and the south east and the south east bargaining power will be what they are able to contribute to Buhari's victory in 2019, which is the headache of APC members who are from the south east.
"Wake up call to Ndigbo"— VON
DG APC stalwart and the Director General of Voice of Nigeria, DG-VON, Mr. Osita Okechukwu said:
"Yes, the Igbo future really depends on 2019 because I have made consultations and I have attended many Igbo fora and 95 per cent of those I sampled said they want to remain in Nigeria and that they believe in democracy. So, if you want to remain in Nigeria and you believe in democracy, what we are saying is to give us a sense of belonging and to stop marginalisation since after the civil war, Igbo presidency will be a soothing balm and this is the second time, Mr. President through Boss Mustapha is re-echoing it. For me, it is a wakeup call."
Igbo want better Nigeria, not presidency—Maxi Okwu
Former National chairman of the All Progressive Grand Alliance, APGA, and a member of the present Third Force, seeking for power outside APC or PDP, Mr. Maxi Okwu in his reaction, said:
"That was a patronising talk. Go to the streets in the south east and ask them what they want. Presidency is not what they want. They want a better restructured Nigeria. Igbo man is not interested in Nigeria presidency; it's just carpet beggers and political operatives that are looking for a president of Igbo extraction."
Hypocritical plan to deceive Nigerians—MASSOB
Similarly, Movement for the Actualization of Sovereign State of Biafra, MASSOB in its reaction dismissed President Buhari's position as baseless, saying that
"Ndigbo can never be dependent or attached to President Muhammed Buhari or any other man."
MASSOB, in a statement signed by its leader, Comrade Uchenna Madu described President Buhari position as "another hypocritical plan to deceive the people of Biafra."
No presidential candidate should take Igbo for granted—Amaechi
Also reacting to the presidential statement yesterday, First Republic minister of Aviation, Chief Mbazulike Amaechi said it was a pity that Nigerian presidency should be associated with ethnicity and religion. While stating that President Buhari had the constitutional right to seek re-election, he said:
"I know they (Presidency) do not mean what they said concerning Igbo presidency. Even though it looks certain that a northerner would become the next president, such a president should not take Igbo for granted as it is at present.
"Instead of taking Igbo for granted, they should allow Igbo to go, even though I do not support any breakaway. I love Nigeria and that was why I fought for her independence and even went to prison, although all that I did are not appreciated by successive Nigerian governments."
According to him, Buhari's performance in the last three years was filled with feudalistic tendencies, which only succeeded in breeding disharmony among Nigerians.